News
Terminal buildings evacuated due to fire & smoke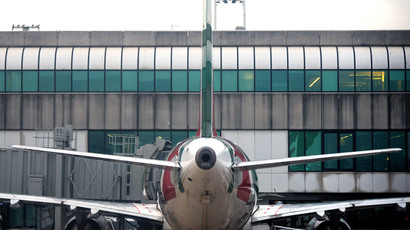 AFP Photo / Vincenzo Pinto
Rome's key airport, Fiumicino, closed after a fire broke out in an underground baggage storage area shortly after midnight. At least three people suffered from smoke inhalation, a fire brigade official told Reuters. The terminal buildings were evacuated.
Passengers who happened to be at the airport at the time of the accident shared photos of thick smoke on social media.
Up to 20 firefighting trucks attended the scene. The main highway linking Fiumicino to the capital was closed to allow emergency vehicles to pass.
Officials said there were no serious injuries, however.
The fire broke out in Terminal 3, which is used for international flights.
According to the fire brigade official, the blaze was under control. The cause of the fire is unknown, however.
The airport is expected to remain closed until 2pm (1200 GMT).