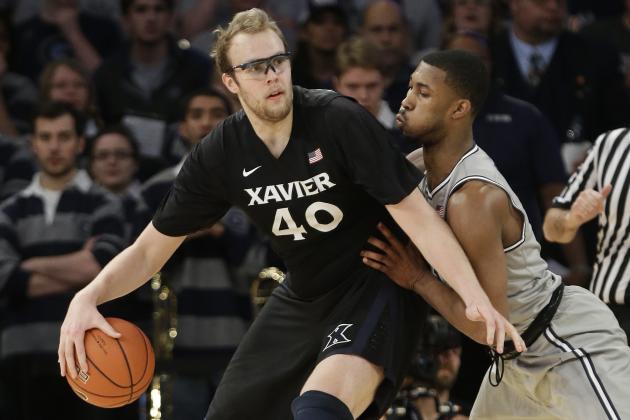 Xavier center Matt Stainbrook is plenty talented enough to be on a basketball scholarship. However, he chose not to take a paid education from the school so that his brother, Tim, would be able to have one.
The Cincinnati Enquirer's Shannon Russell brought the Stainbrooks' unique situation to light back in November. Now that the Musketeers are back in the NCAA tournament (and winning), the story is getting a bit more attention.
Here's how Matt, a fifth-year senior, explained his decision to not take a scholarship so that Tim, a sophomore, wouldn't have to worry about dealing with student loans this season, via Russell:
For my MBA, I think it costs about $14,000 a year. For undergrad, which is what Tim's in, it's like ($43,000). So even with the scholarship for academics he was getting, which wasn't a ton, it's a lot more expensive. I was like, 'OK, I haven't had any student loans in the past four years. Tim has worked hard. It's not like the guy doesn't deserve it.' It made sense to me.

It helps my parents and Tim down the road paying it. If I can take an extra $20,000 in loans including rent and stuff like that, food, I'd gladly do that.
As a result, Xavier's leading scorer and leading rebounder is not a scholarship player.
It may be easy for Matt to put his brother before himself, but not everyone would be willing to do something like that. He knew the decision would be easier on his family, so he gave up his scholarship slot so his brother could have it.
As a college student, Matt has some bills to pay. He has found a way to make some money in his free time working for Uber, a transportation network of taxi drivers that takes consumer requests fromsmartphones. Dan Wolken of USA Today recently caught up with Matt and asked him about his part-time job:
I don't have a ton of classes, so there's a little bit of down time. It helps me relax, gives me a chance to clear my mind and not have to think too hard. Obviously I'm not doing it a lot this week, but in the offseason, at the beginning of the season a little bit, I was doing 20, 25 hours a week. Just trying to pay some bills and have a good time with it.